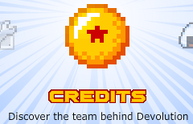 Credits is an option that you discover the people who created the game.
What this option talks about in the beginning? : Discover the team behind DBZ Devolution.
The Credits
[
]
Dragon Ball Devolution
_
Made by
Etienne Bégué
Especial thanks for the help from
Amine, Andréas, Andrés Erasmo, Aroffff, Avion, Azan, BrolySSj, Chrisis, Darvel, Driss1993, Dyno, Funrush, Hyper-Zack, Igna, Jason, Jim, jhonbanyam, Josh, KameHameHaC12, Kario, Mahmad, MatthewK, Metapro, Mickey2001, Mystic, Nicole pong, Oswaldo Flores Mr.Fishie, Rayandbz, Sider, Soduko, ssj3Vegeta, ssjwarrior, Tailsker, Taikeru, vincent512, XD forever, Zelkova, Zipper49
You guys are awesome!
Original music composed by
Shunsuke Kikuchi
8-bits remixed by
Darvel
This game is a tribute to
Akira Toriyama
Thanks for playing!